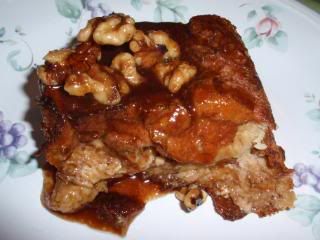 I love breakfast foods! When I got to a diner I'm always torn between ordering breakfast or lunch. I love french onion soup but give me some french toast and a poached egg and I'm so happy. It all depends on what everyone else is ordering though. If I am sitting there enjoying my soup and then I get a whiff of bacon and eggs...deep regret. I'm just so indecisive when it comes to this!
Last year Steve and I got a few couples together to go apple picking. Everyone met at our place first for breakfast. That was so much fun for me! I experimented with baked french toast and it was a huge hit! So last weekend when my childhood friend stayed over with her Fiance there was a request for a repeat of this dish. I was happy to make it again but the only problem was that I combined a few different recipes and never wrote down what I did. That was before I started this lovely little blog that forces me to write down recipes! I did find some notes scribbled onto one paper but not enough information was there. Now that I made it again I think I left out a step. Oops. I didn't bake the french toast again with the topping which is what I think I was supposed to do. I didn't have the topping in the oven at all. I'm pretty sure that's wrong now that I think about it. I also feel like 3 cups of milk is a lot. I will try it next time with a little less because it seemed a little wet in the middle and it was cooking at 425 and got nice and browned on top. I think in the future I will cook it for about an hour at 350.
The taste was great! I don't think it was missing anything at all! I would absolutely make this again and now that I have this written down I will be able to perfect it. Wish me Luck!
Ingredients:
French Toast:
1 loaf Challah Bread, cut into 1 inch slices
3 cups whole milk
3 eggs, beaten
3 tbsp sugar
1/2 tsp salt
1 tsp vanilla
1 tsp almond extract
1 tsp nutmeg
2 tsp cinnamon
Topping:
1/2 cup butter, melted
2 tbsp dark corn syrup or maple syrup
1 cup brown sugar
1 cup chopped pecans or walnuts
Directions:
1. In a baking dish layer slices of bread so that they are touching and rip a slice of bread into pieces to fill in any holes. Make two layers.
2. In a bowl combine eggs, milk, sugar, extracts, nutmeg and cinnamon. Pour this mixture over bread. Wrap with plastic wrap and refrigerate overnight.
3. Next morning, preheat oven to 350. Meanwhile, in a small saucepan melt butter and take off the heat. Add corn syrup/maple syrup, brown sugar and nuts. Stir to combine and it will make a paste.
4. Spread mixture over bread that soaked up eggs and milk.
Bake for approximately 1 hour or until a toothpick inserted in the center comes out clean.
Like I said above, I did this wrong. I baked it before I put the topping on. This is what it looked like puffed up and golden.
Here's the topping!