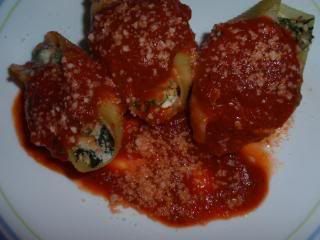 Raise your hand if you're addicted to the food network! I am! I have many shows recorded and Saturday mornings I can't seem to turn it off. I watch it while I clean...this is why it takes me all morning and early afternoon to clean our 2 bedroom condo...I get easily distracted. Well a few weeks ago I watched Giada make stuffed shells for her sister. This wasn't a new show but I guess this time it got my attention. Giada stuffed her shells with turkey and artichokes. Sounds interesting, I certainly do like artichokes but I wasn't really feeling that this weekend. So instead I made two boxes of shells (1 and half would have been plenty) and I stuffed half with turkey, spinach and ricotta and the other half with the normal cheese filling for ravioli, stuffed shells or manicotti, ricotta and mozzarella. My mom made her usual Sunday Sauce and it was delicious. She had meatballs and sausage and small chicken steaks in it. Both of the fillings were great! Everyone seemed very surprised and pleased with the turkey stuffed shells so now I have my creative juices flowing and will try something new next time.
I use part skim ricotta and part skim mozzarella but feel free to use the full fat versions if you like. You could use lean ground turkey if you like that but for my taste it is a little dry. I buy the ground turkey that's a mixture of white and dark meat. If you use the leaner meat I would suggest adding some more ricotta so it's creamy and not dry. I don't usually measure the amount of ricotta, I just add it in and taste it, same with the egg. I used only one egg but it was an extra large egg so depending on the other ingredients you chose you may want to add two large eggs.
Turkey and Spinach Stuffed Shells
Ingredients:
1 package of stuffed shells, cooked until al dente and cooled on a cookie sheet
1 1/2 pounds of ground turkey
1 medium onion, diced
3 cloves garlic, minced
1 package frozen chopped spinach, defrosted and squeezed to remove water
1 - 1 1/2 cups ricotta (approx)
1/2 cup grated romano cheese
1 cup shredded mozzarella
salt and pepper, to taste
dash of nutmeg
extra virgin olive oil
1 -2 eggs, beaten
Prepared Sauce (see below)
Directions:
1. Sauté ground turkey in olive oil until browned, season with salt and pepper, drain fat and set aside in large bowl.
2. Sauté onion and garlic in olive oil until onions are translucent. Add chopped spinach, seperating it with your fingers when you add it to the pan, season lightly with salt and add pepper and nutmeg. Once mixture is cooled add to bowl with turkey. Add ricotta and romano cheese, taste. You may want to add more romano, salt or pepper at this time. Add egg and combine.
3. In a lasagna pan add one layer of sauce to prevent shells from sticking. Fill shells well with a tablespoon of mixture, adding more if needed. You want to be able to see the filling but you don't want it to overflow from the shell. Add shells to pan. Top shells with sauce but don't drown it. You want to be able to see the shells. On top of the sauce add a layer of shredded mozzarella. Bake at 350 for about 30 minutes or until the cheese is bubbling.
Michele's Basic Sauce
Ingredients:
2 cans Tuttorosa crushed tomatoes (use whatever brand you like)
1 medium onion, diced
3-5 cloves garlic, minced
fresh basil, to taste (dried or frozen can also be used)
1 tsp. Italian Seasoning
1 tsp. crushed red pepper flakes (if you like more spice add more)
salt and pepper, to taste
1 tsp. sugar (optional)
Extra Virgin Olive Oil
Directions:
1. Saute onion and garlic in oil. Add crushed red pepper, Italian seasoning and basil. Stir to combine flavors.
2. Add crushed tomatoes and stir. Fill about 1/3 can with water and swish around to clean tomatoes from sides and then pour into next can and do the same thing. Add to pot. Stir and add sugar, salt and pepper.
3. Let sauce come to a boil and add fried meatballs to the pot and stir gently. Reduce heat and let sauce simmer for 2 hours stirring frequently. Taste and add salt and pepper as needed.
If you want to add sausage, beef steaks, pork ribs or neckbones saute them in oil in the same pan as the meatballs and add to sauce when you add meatballs putting heavier meats in first.