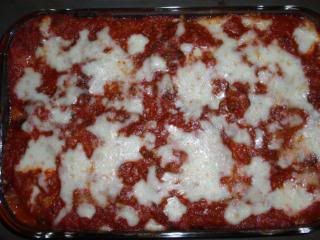 Eggplant Parmigiana is one of those things that I don't order out. I have encountered too many issues with this dish in restaurants and ended up not enjoying my meal. While I keep the skin on when I make my fried eggplant, I do not like the skin on it on this dish. It doesn't actually need it to stay together because it is breaded and if you do leave the skin on it could create a mess when chewing and trying to pull of the piece of skin that has gotten stuck in your teeth. Not fun. The other reason is that sometimes the eggplant is sliced too thick and is somewhat firm in the center. I like the eggplant layers to meld together and just melt in your mouth. That's how it was always made when I grew up and this is how I make it now. So, if you like melt in your mouth eggplant, you'll like this dish!
Again, I don't measure for this dish but if you've made chicken cutlets before it's the same thing.
Ingredients:
1 medium sized eggplant
3 eggs
splash of milk
romano cheese
salt and pepper
italian style breadcrumbs or plain breadcrumbs seasoned with parsley & garlic powder
canola oil, for frying
marinara sauce
16 oz mozzarella cheese, grated or sliced
Directions:
1. Peel eggplant and thinly slice about 1/4 inch thick.
2. Beat eggs and add a splash of milk, salt and pepper.
3. Season breadcrumbs (whichever you chose) and add romano cheese.
4. Dip eggplant slices (cover both sides) in egg mixture and then in breadcrumbs patting down with your hand to help crumbs adhere to the eggplant. Do this on both sides.
5. Using a large frying pan, brown eggplant slices on both sides in canola oil. Make sure your oil is very hot because eggplant sucks up oil like a sponge. Drain slices on a paper towel (don't forget to eat a piece when it's cooled, it's just as yummy plain!).
6. In a medium sized deep baking pan (I used my medium rectangular pyrex)ladle some marinara sauce to lightly cover the bottom. Add slices of eggplant slightly overlapping (if they are sliced thin you can do this). Add another layer of sauce, sprinkle of romano cheese and mozzarella. Don't put the mozzarella on too thick. Add another layer of eggplant and continue to layer the same way until all of your eggplant is used. The last layer should be mozzarella.
7. Bake in a 350 degree oven for 35-40 minutes. Let eggplant settle for 5-10 minutes before slicing.