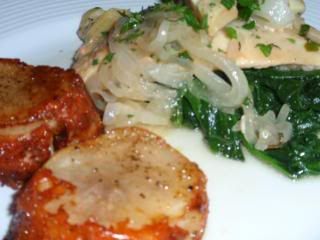 Do you think YOU could be The Next Food Network Star? Melissa D'Arabian sure did and now she is this seasons winner of her own cooking show. On the final episode of the show the two remainimg contestans, Melissa and Jeffrey had to record an episode of their potential cooking show. I was impressed with both of finalists but I can see myself making Melissa's recipes regularly. This chicken dish is very easy and a method I use (and so does everyone else) all the time. It's funny that Melissa said she invented it but that's okay, I'll let it slide. I was more excited to try the potatoes that she made because they looked so cute when she flipped them out of the muffin tins. She definitely gets pointes for using muffin tins, who doesn't have at least one, right? I love to find new uses for items I already own, it's like getting something new without having to find space for it in my kitchen.
I bet your wondering what the Coast to Coast Cooking is and I'll get to that right now. Every day on
Bakespace
we discuss what the evening's dinner menu will be. Not only is it fun for us to see what's going on our friends' kitchens but a lot of us use this thread for ideas when we're stuck. Last week my friend Danielle from
Cooking for my Peace of Mind
was stuck. I told her that I was making Melissa's dish and told her she should make it with me. The idea caught on and Shane of
Culinary Alchemy
and Spryte of
Spryte's Place
decided to join in. Dani thought it would be cool to call this Coast to Coast Cooking. She and Shane live in California and Spryte lives in Pittsburgh and of course, I live in New Jersey. We thought it was a great title and a fun idea, so here we are now all blogging about the same thing. We are all putting out own spins on the dish so make sure you check out their blogs to see how theirs turned out!
Spryte's Individual Potato Gratins
Shane's 4 Step Chicken Stroganov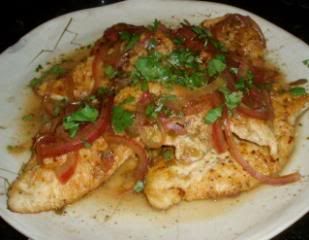 Dani's 4 Step Chicken and Individual Potato Gratins
I pretty much followed Melissa's recipe exactly but I used less lemon juice, a vidalia onion and added artichoke hearts. Melissa was on the money with the red onion. My dish is lacking color with the Vidalia. I should have browned them longer to get more color. The chicken is served on a bed of spinach which she did have a recipe for. I prefer to cook my spinach in garlic and oil so that's what I did. For the potatoes I used a combination of swiss cheese and fontina cheese. I seasoned my potatoes in a bowl before layering them. That was both good and bad. I put in a little too much salt (the cheeses are salty!) but I loved the smoked paprika and Mrs. Dash. They potatoes were very flavorful. I don't know why the potatoes are called 5 Minute Potatoes, according to the recipe the prep and the cooking time are longer than 5 minutes. It doesn't take too long to prepare them though.
Give this a try and see how you can make this different and unique to your own house and your own pantry!
Flexible 4-Step Chicken for Family and Company - Rustic Lemon-Onion Chicken
Recipe courtesy Melissa d'Arabian
Prep Time: 30 min Inactive Prep Time: -- Cook Time: 30 min Level:
Easy Serves:
4 to 6 servings
Ingredients:
4 boneless, skinless chicken breast halves, sliced in half crossways (butterflied, cut all the way through)
1 teaspoon dried thyme, plus 1 small bunch fresh thyme, leaves chopped
Salt and freshly ground black pepper
4 tablespoons olive oil
1/4 cup all-purpose flour
1 red onion, thinly sliced
1/4 cup white wine, optional
1 cup chicken broth
3 lemons, juiced
1 to 2 tablespoons butter
Directions:
Season chicken with dried thyme and salt and pepper. Heat a large saute pan over medium heat and add the oil. Dredge the chicken in flour, add to the hot oil and saute until cooked through. Set chicken aside to rest on plate tented with foil.
In same saute pan, over low heat, add onions and fresh thyme and cook until aromatic.
In a measuring cup, measure out wine, if using, and broth, and add the lemon juice. Turn the heat up to high, and deglaze the pan with the broth mixture until starting to reduce.
Remove the pan from the heat and finish the sauce by whisking in butter. Season with salt and pepper, to taste.
Place a bed of cooked spinach on a serving platter, top with the chicken. Spoon the sauce over the chicken and serve.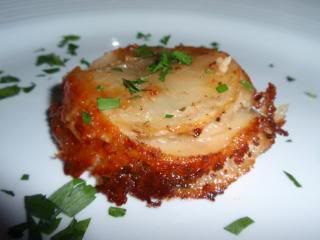 5-Minute Individual Potato Gratins
Recipe courtesy Melissa d'Arabian
Prep Time: 15 min Inactive Prep Time: -- Cook Time: 40 min
4 to 6 servings
Ingredients:
Vegetable spray
2 large russet potatoes, roughly peeled and thinly sliced
1/2 cup grated Swiss cheese
2 green onions, finely chopped
Salt and freshly ground black pepper
3/4 cup heavy cream
Directions:
Preheat oven to 375 degrees F.
Spray 8 muffin tins with vegetable spray. Layer potato slices, cheese, and onions into each muffin cup. Season with salt and pepper and top each gratin with 1 or 2 tablespoons of heavy cream. Cover with foil and bake for 30 to 40 minutes, removing the foil halfway through cooking time. Invert gratins onto plate and serve.