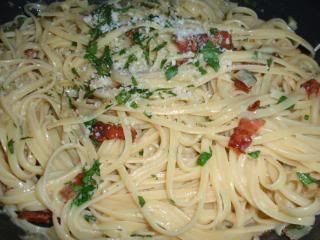 This picture does not capture the beauty of this dish. It's not just this picture but every picture I have taken and this is the second time I've taken pictures of it for my blog. To solve this little problem you must come to my house so I can show you how to make this and so we can make it together.
I'm going to admit that it took me try after try to truly perfect this recipe. I've always loved it but sometimes it's too wet, sometimes it's too dry, sometimes it's really just eggs and pasta (what I call Poor Man's Carbonara) but this time I got it right. It's just how I like it. Creamy without being too saucy, flavorful but with a balance of flavors, not too yellow, not too white, it's just perfect...for me. Give it a try, play with the measurements and ingredients, find your perfect balance. Let me know how it works out for you.
Spaghetti Carbonara
1 medium onion, diced
6 slices of bacon, diced
1 clove garlic, minced
1/4 cup pinot grigio (usually i use a dry white but I love the sweetness with the bacon and onions)
1/4 chopped fresh parsley
1 lb spaghetti
3 eggs beaten
2 tbsp heavy cream or milk
1/2 cup or more of romano cheese
salt and pepper
extra virgin olive oil
Directions:
1. Bring a large pot of water up to a boil and season generously with kosher salt.
2. While water comes to a boil, cook bacon in large pan and cover with a splatter shield so you don't burn yourself. When bacon is cooked remove with a slotted spoon and drain on paper towels. (At this point completely ignore the pool of grease on the paper towel, it will all be worth it in the end, I promise.)
3. Add a tablespoon of oil to the bacon drippings and saute onion and garlic. Deglaze the pan with wine and use a wooden spoon to pick up the bits of bacon that stuck to the pan. The cooking term for the tasty morsels (if you care) is called "fond". Once most of the liquid has evaporated turn off the heat.
4. Cook pasta in salted boiling water. While pasta cooks, beat eggs, cream and grated cheese in a small bowl and set aside.
5. When pasta is al dente remove with tongs and add to the pan with onions reserving about 1/2 cup of pasta water. Toss in bacon.
6. Slowly add 1/4 cup of hot pasta water to the eggs whisking quickly to temper the eggs to prevent scrambling. Toss with hot pasta, sprinkle with parsley and add if it seems very dry add more of the pasta water but only if you need it. Top with more romano cheese.
Serve immediately!