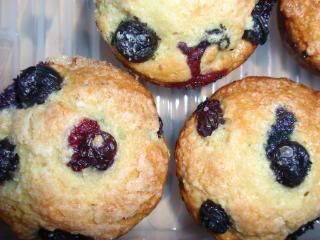 I know, I know, I know. I know just what you're thinking.
Why is Michele doing another Blueberry Muffin post when she just raved about those other Blueberry Muffins???
It's because I'm a sucker. I'm a sucker for photos of muffins bursting with blueberries, threatening to be extra moist from french vanilla yogurt! I saw this recipe
here
on a lovely blog written by Pam called
For the Love of Cooking
. Please visit her blog to see all her other wonderful recipes and step by step photos of this one.
This recipe orignated from cooking light so that should make you feel better about eating one, two or more of these! The ingredients are similar to those in my first
Blueberry Muffin recipe
with the addition of fresh squeezed orange juice, yogurt and even more blueberries. I bought an individual portion sized cup of french vanilla yogurt but turns out that the entire container didn't equal a cup. Lucky for me I had some low fat sour cream in the fridge and I used that to make up the difference. I don't think it affected the flavor at all, in fact, I bet you could completely switch out the yogurt for sour cream if that's all you had. It worked! These muffins were fabulous and different from the others so I felt I just had to share the recipe with you. I hope you all give this one a chanceit's from cooking light!
Blueberry - Yogurt Muffins:
Recipe by For the Love of Cooking.net
Original recipe from "The complete Cooking Light Cookbook"
Ingredients:
2 cups flour
1/3 cup sugar
1 tsp baking powder
1 tsp baking soda
1/4 tsp salt
1/4 cup freshly squeezed orange juice
2 tbsp vegetable oil
1 tsp vanilla extract
1 cup of vanilla low fat yogurt
1 large egg, lightly beaten
1 1/2 cups fresh or frozen blueberries (divided)
1 tbsp sugar
Directions:
Preheat the oven to 400 degrees. Lightly spoon 2 cups of flour into a dry measuring cup; level with a knife. Combine flour, 1/3 cup of sugar, baking powder, baking soda, and salt in a large bowl; make a well in center of mixture. In a separate bowl, combine orange juice, oil, vanilla, yogurt and egg; add to dry ingredients, stirring just until moist. Gently fold in 1 cup of blueberries
Spoon batter into a muffin tray that has been coated with cooking spray. Divide the remaining 1/2 cup of blueberries between the muffins; sprinkle 1 tablespoon of sugar evenly over the muffins.
Bake for 17-19 minutes or until tester inserted in center comes out clean. Remove muffins from the pan immediately and place on a wire rack to cool.