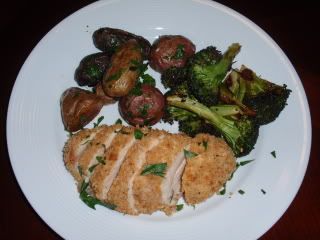 Well it's been a damp and rainy day here in Northern New Jersey so I thought it would be nice to turn on the oven and warm things up a bit. This entire meal was made in the oven! So nice not to have to scrub my stove for once.
I watched Tyler Florence make
Chicken Cordon Bleu
last week and his presentation is what really got me excited. I've made many different versions of Cordon Bleu but I just found my new favorite. I'll admit I'm not entirely happy with how my chicken looked compared to Tyler's but I think if I practice this method I will get better at it. So what's different, you ask? Tyler used plastic wrap to roll up his chicken jelly roll style and then twist off the ends so it looked like a compact little stuffed sausage. This eliminates the need for toothpicks and is an alternative to folden your chicken booklet style. My rolls were fatter which was probably because I didn't pound it thin enough and it took some handling for me to get the chicken rolled tight, not quite as easy as it looked on television but definitely worth trying and mastering. I wish I took a better picture, my creative juices were on low tonight and I just couldn't arrange the chicken well. More things to learn (but that certainly is one of the great things about this blog, I get lots of practice) and I'm taking it one day at a time.
I used Tyler's method but added my own flair to the dish. Instead of using Gruyere cheese I used delis sliced Provolone. I seasoned the panko breadcrumbs with garllic powder, romano cheese, Mrs. Dash Table Blend (I love that stuff!), thyme, paprika, salt and pepper. I skipped the
Chicken Jus
because I just don't have that kind of time on a week night but I would absolutely love to try it on a weekend.
Click here
to see Tyler's Original Recipe.
Michele's Chicken Cordon Bleu
Adapted from Tyler Florence
Serves 2
Ingredients:
2 chicken breasts skinless and boneless
4 thin slices prosciutto di Parma
4 thin slices provolone
1/4 cup all-purpose flour
Kosher salt and freshly ground black pepper
Approx 1/2 cup panko bread crumbs
1 tsp dried thyme
1 tsp garlic powder
1 tsp Mrs. Dash Table Blend
1 tsp paprika
romano cheese, to taste
1 tablespoons unsalted butter, melted
1 eggs
Extra-virgin olive oil
Directions:
Preheat oven to 350 degrees F.
Lay the chicken breast between 2 pieces of plastic wrap. Using the flat side of a meat mallet or heavy bottomed pan, gently pound the chicken to 1/4-inch thickness. Remove the top sheet of plastic and lay 2 slices of prosciutto neatly over the top to cover the breast and then lay 2 slices of provolone over that. Tuck in the sides of the breast and roll up tight like a jellyroll inside the plastic wrap. Squeeze the log gently to seal and twist both ends tight to form a nice log. Repeat with remaining chicken. Refrigerate chicken for 20-30 minutes.
Season the flour with salt and pepper. Mix the bread crumbs with thyme, garlic and kosher salt, pepper, Mrs. Dash, paprika, romano cheese and melted butter. The butter will help the crust brown. Season flour with salt and pepper. Beat egg with a splash of water.
Remove the plastic wrap. Lightly dust the chicken with flour, dip in the egg mixture and gently coat in the bread crumbs. Lightly coat a baking pan with olive oil and carefully transfer the roulades onto it. Bake for 20 to 25 minutes until browned and cooked through. The size and thickness of your chicken determines how long you will need to cook it. I cooked mine for 30 minutes and it was perfect.
Come back tomorrow to see the recipes for Roasted Broccoli and Roasted Baby Potatoes.
In case you get this blog delivered to your email or in a feed and haven't noticed, I am now on Twitter.
Click here to follow me!