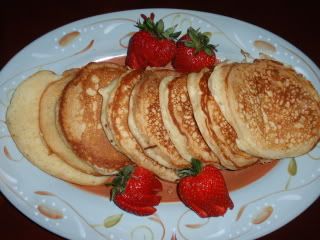 Hi everyone! I'm back! Thanks for all your well wishes! I'm feeling much better now. Still slightly sore but I can chew more things now, thank God! I was going out of my mind eating eggs and pudding and mac and cheese every day.
This morning I decided to pull out a recipe for pancakes that was given to me years ago by my cousin Tiffany. I used the recipe once before and really liked it but I put it away and forgot about it since I don't get the chance to make breakfast that often. Well, let me tell you, I will definitely be making these again soon! They were so delicious and definitely worth the effort of making them from scratch. They aren't the most figure friendly since they are loaded with butter but I instead of using whole milk I used skim plus. I had some reduced fat sour cream leftover and I had a new container of full fat sour cream so I used both. It turned out perfectly so I wouldn't worry about making swaps.
Pancakes
2 Cups all-purpose flour
½ cup sugar
2 tsp baking powder
1 tsp baking soda
½ tsp salt
1 ½ cups milk
1 cup sour cream
2 eggs
6 Tablespoons unsalted butter
1 Tablespoon Lemon Juice
Whisk together the flour, sugar, baking powder, baking soda and salt. In another bowl, whisk together the milk, sour cream, eggs, melted butter, lemon juice. Pour the milk mixture into the flour and stir until combined. Batter will be lumpy.
Brush griddle with olive oil over medium heat and make the pancakes like you normally would.
Makes approx 20 pancakes
My cousin Tiffany has her own business making custom window treatments. She is extremely talented and constantly impresses me with her creations. Please check out her website
www.tanahome.com
. Thanks guys!