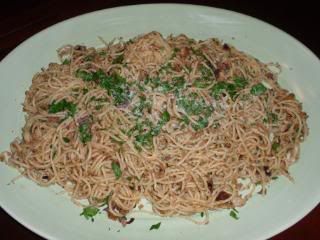 Have you noticed that I love olives? They aren't just for salads, I assure you. I'm always throwing kalamata olives into my of my dishes. I just love the salty kick that they give. Most of the time you can leave the olives out if you don't like them but in this dish I think you would really be missing something if you didn't use them. I watched
Giada De Laurentiis
make this recipe a while ago and it went into my mental rolodex of recipes that I must try. I thought about it yesterday when looking for something quick to make for dinner. I went to
The Food Network
and pulled up Giada's recipe. WARNING : The next paragraph is a rant, skip to recipe if you don't want to hear it.
I read the reviews and had myself a good laugh. I apologize ahead of time if I'm coming off mean or as a food snob. I really don't mean to but it just amazes me how critical people can be. So for those people who gave this recipe a bad review...If you don't like olives why would you want to make this dish? You obviously wouldn't like it so why ruin it for others that might like it? That's the same as me knowing that I don't like shrimp and then cooking it anyway and then giving it a bad review because no matter what the recipe is if there's shrimp in it I'm not going to like it. It's just not right. Oh and if you are going to use canned salad olives it's going to be awful but why would you do that if you read the recipe or watched the show? Stepping off my soap box now.
Anyway,
sorry
about that little rant, it just upsets me.
The recipe is great!
I changed it up slightly but not because it wasn't good but because I like to make things that suit my tastes and my style of cooking.
If you want to see the original recipe
click here
.
Here is the recipe with my alterations.
Ingredients:
1 pound spaghetti
1/2 tbsp butter
Approx 2/3 cup extra-virgin olive oil (use less you can always add more)
3/4 cup seasoned dried bread crumbs
2 cloves garlic, minced
1 tsp. crushed red pepper flakes
3/4 cup pitted and roughly chopped kalamata olives
3/4 cup pitted and roughly chopped large green sicilian olives
1/3 cup freshly grated Parmesan
1/4 cup chopped fresh flat-leaf parsley
Directions:
Bring a large pot of salted water to a boil. Add the pasta and cook, stirring occasionally, until tender but still firm to the bite, about 8 minutes.
Meanwhile, in a large saute pan, heat the oil over medium-high heat. Add garlic, red pepper and the bread crumbs. Stirring constantly, cook the breadcrumbs until golden brown, about 2 minutes.
Drain the pasta, reserving 1 cup of the pasta water. Stir the pasta into the bread crumb mixture. Remove the pan from the heat and add the black and green olives. Add the Parmesan cheese and 3 tablespoons of the parsley. Gently toss to coat, adding reserved pasta water a little at a time to loosen the pasta. Transfer to a large serving bowl and garnish with the remaining parsley.
Enjoy!