These are the two sides I served with my Chicken Cordon Bleu. I know I promised to post it the next day. I'm really late with this one! Sorry about that!
I was very excited when I saw a bag of mixed baby potatoes in the supermarket last week. There were baby red, fingerling, yukon gold and purple potatoes in the sack. I prepared them quite simply and I'm glad I did. The potatoes were creamy and had a great flavor on their own.
Since I was already turning on the oven at a high temperature I figures I might as well try roasting the broccoli as well. It seems to be a new trend on the food network and I have been meaning to give it a shot. The temperature may have been slightly too high for the broccoli or maybe I should have taken them out a bit sooner as some of them burned...um...I mean caramelized. Luckily, the broccoli still tasted great! When you make it check your broccoli after 10 minutes to check for desired doneness. I will make this again and get a more accurate cooking time.
Roasting is a great method for cooking veggies with little effort and lots of flavor. If you need another reason, it makes for a night of easy cleanup! My stovetop remained clean!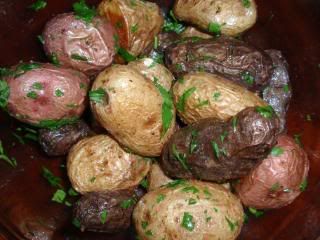 Oven Roasted Potatoes
Ingredients:
1 bag of mixed baby potatoes
4 cloves of garlic, cracked
Kosher salt and Pepper, to taste
Approx. 2 tbsp. extra virgin olive oil
2 tablespoons chopped fresh parsley
Directions:
1. Scrub potatoes and pat dry. Spread out on in a roasting pan or a cookie sheet. Something that is large enough that the potatoes aren't touching.
2. Season potatoes with oil, salt, pepper and garlic and toss around with clean hands. Spread out.
3. Bake at 400 for about 30 minutes or until a knife easily pierces the potatoes. Shake the pan a couple of times to make sure that they aren't sticking and are getting evenly browned.
4. Toss with parsley. Serve hot or at room temperature.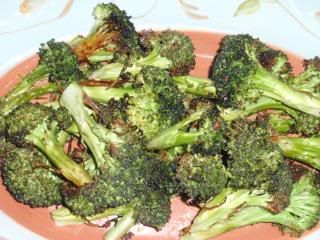 Oven Roasted Broccoli
Ingredients:
2 bunches broccoli, trimmed of most of the stem and cut into florets.
3-4 cloves garlic, chopped
Approx. 2 tablespoons of extra virgin olive oil (I tend to go back and add more)
1 teaspoon crushed red pepper flakes
kosher salt
Directions:
1. Toss broccoli with oil, salt, pepper and garlic and spread in a roasting pan or cookie sheet.
2. Cook for 10-15 minutes at 400 or until desired tenderness is reached.
Options:
Add some grated romano or parmesan cheese when it comes out of the oven.
Toss with browned bread crumbs (or bread crumbs and cheese).
Squeeze some fresh lemon juice on top just before serving.