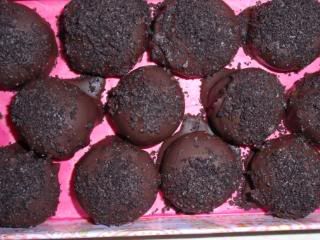 As you all know I had my wisdom teeth extracted last week. I had a great experience thanks to Dr. Pirozzi, Dr. Ernst and the wonderful staff at
The Center for Oral Surgery in Montville, NJ
. Their smiling and welcoming faces made me comfortable from the moment I stepped through the door. I don't know about your experiences but I never seem to come in contact with many friendly faces at the offices I have been to. Usually they don't even look up from their work, speak in a monotone voice and have miserable looks on their faces. That is not the way this group is at all. They gladly answered all my questions (and I had many) and made me comfortable. This made a huge impression on me and I wanted to show them my appreciation. Since I was going to the office for my post-op appointment I decided to make them some
oreo truffles
. These fabulous little chocolate candies have been circulating
bakespace
and most food blogs for months. I'm pretty sure everyone has tried making them once. They are so easy and are very pretty. You can get creative by drizzling some white chocolate on top, topping them with colored sprinkles or other candies. It's completely up to you.
So here's a big THANK YOU to my new friends! Hope you all enjoyed the truffles!
Oreo Truffles
Ingredients:
1 pkg. (1 lb. 2 oz.) OREO Cookies, finely crushed, divided
1 pkg. (8 oz.) PHILADELPHIA Cream Cheese, softened
2 pkg. (8 squares each) BAKER'S Semi-sweet chocolate, melted
Directions:
MIX 3 cups of the cookie crumbs and the cream cheese until well blended. Shape into 42 (1-inch) balls.
DIP balls in melted chocolate; place on waxed paper-covered baking sheet. (Any leftover melted chocolate can be stored in tightly covered container at room temperature and saved for another use.) Sprinkle with remaining cookie crumbs.
REFRIGERATE 1 hour or until firm. Store any leftover truffles in tightly covered container in refrigerator.
Here are some tips:
1 - If you use the entire package of oreos you will have leftover oreo crumbs, save these in a ziplock bag and use them to top ice-cream or to top cupcakes.
2 - Refrigerate oreo balls before dipping them in chocolate so they stay nice and firm.
3 - You will have a lot of chocolate leftover. Don't be tempted to make these the next time with less chocolate (I did) because it makes it difficult to cover with chocolate.