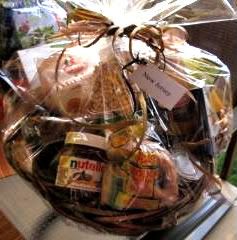 I already told you about the Bakespace Cookover in Pittsburgh but I didn't tell you about our gift basket exchange. Sorry that it took so long to get back to this! When discussing our trip to Pittsburgh on
bakespace
, we thought it would be a fun idea if everyone made up a gift basket with items from their state and/or items that represented the person. The idea was to then swap them so we all had something fun to come home with and so we could learn a little more about our online friends.
I'm originally from Brooklyn, New York, lived in Staten Island, New York for 7 years and have lived in New Jersey for the past 2 1/2 years. I wanted to represent the locations but more importantly I wanted to represent myself and my Italian heritage. I wish I could have included a nice ball of fresh mozzarella and some beautiful prosciutto di parma but I didn't think it would make the trip. I even looked into dry ice but I'll be honest, it scared the hell out of me. I read that it could explode at certain temperatures and I didn't want to take any chances. I'm really happy with how my basket turned out and I think the recipient, Jen, was happy as well.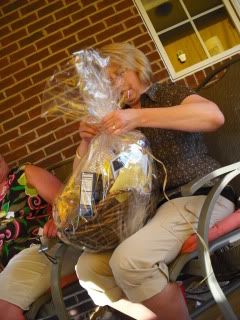 Here's what I included in the basket and why.
A can of Tuttoroso tomatoes - This is the brand of crushed tomatoes that I keep in my pantry all the time. My mom and sister use it as well. We stock up twice a year when Shoprite has their can-can sale. We buy cases and cases!

1 lb spaghetti - Well, I'm Italian and I love pasta! I can't think of a better way to represent that!
2 small cans of DelMonte - It's funny, growing up my mom would say "go downstairs and get me a can of Del Monte" even if it wasn't DelMonte. You see we like to add tomato sauce to a lot of dishes to add color and flavor. This isn't a tomato sauce in a jar like prego or ragu (gasp! The sacrilege!) but almost like a tomato puree. It comes in little 8 oz cans. Sometimes I use other brands but we still call it DelMonte. I don't know why. Sort of like calling tissues kleenex.
Pastina - Not everyone knows what that is and it's something that I grew up eating a lot and Steve and I like to eat it too. It's sort of like our comfort food. We boil it in chicken broth and it absorbs it, you don't drain it. You want it to be a little liquidy but not exactly like soup. When it's cooked take it off the heat and add a beaten egg to it and stir in some romano cheese. It's delicious. Some people like to just add butter and cheese and that's good too. It's pretty much the first solid food that Italian babies eat.

Nutella- If you haven't heard about my love for this I must be seriously lacking. Nutella is and Italian chocolate and Hazelnut spread. I like to eat it a spoon of it when I'm craving chocolate but it's great spread on a slice of Italian bread, on a croissant, on white bread even! Think of it as the Italian Peanut Butter. Some people even bake with this! DD used it as a filling inside her fabulous Bakespace Cake!
Wine - Steve and his dad make their own wine. This is a cabernet that they made and we all love it. They just started bottling something recently but it's not ready yet.
A Journal - The front of it has a picture of a bottle of wine and it says "You had me at Merlot". I thought that was cute and corny but would be perfect for tasting notes when doing Virtual Wine Tastings over at Bakespace! If you haven't checked that out yet you should give it a shot. Go check out my friend Spryte's blog,
Spryte's Place
where she posts all of her wine reviews! Click
here
for her latest wine review.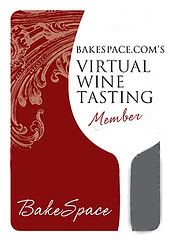 Mini Rachael Ray Cookbook - You all know how I have to defend Rachael Ray. I have the utmost respect for her and...she's Italian! Great recipes in this book!
Amaretti Cookies - These little cookies are great for eating, dunking in coffee and for baking. Yep, I said baking. Giada uses them all the time. She crumbles them up and uses them as a topping and I leard from Lidia Bastianich that they are a great topping for ice cream! I live in New Jersey and come from New York and the Italian specialty stores are all around but even I still have a hard time finding these cookies so I'm sure it's difficult in other states.
New Jersey Dining Magazine - Just to give a little taste of New Jersey. There are reviews of restaurants and menu samples throught this little magazine.
Taralle - A hard Pretzel like cookie that comes in different flavors, fennel, garlic, plain, etc. Great for teething babies or for anyone!
Roasted Cece (Chick Peas)- Tasty snack. You can get them salted or unsalted.

To DO List- I am the Queen of lists! There is such a great feeling associated with making a big check mark or crossing out something on a list. It makes me feel accomplished.
Salt Water Taffy - This represents New Jersey more than it represents me. You can find this sticky sweet treat all over the boardwalks in New Jersey. New Jersey is known for it.
Devil Dogs - I grew up on Drakes cakes and Devil Dogs were my favorite. When I was a kid I used to scoop out the cream in the middle because I loved the chocolate cake without it. Now that I'm all grown up I eat them normally, oh and sometimes frozen! Yum! I mentioned this once on bakespace and only a handful knew what they were so I thought it would be fun to include them.
I think that's about it. Hopefully I didn't leave anything out!
Oh and I was lucky to receive a basket from DD of
DDPie's Slice
. She included some of her homemade goods and I was so excited to recieve a bottle of her homemade vanilla extract! I used it over the weekend! What a difference! Check out her
step by step instructions
and maybe you will be inspired to make some of your own!