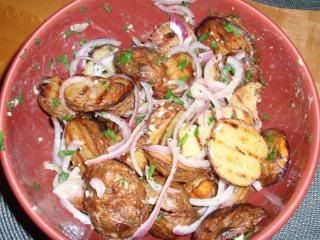 I'm not a huge fan of potato salad or pasta salad with a lot of mayonaise. I usually make my potato salad with oil and vinegar which you can see
here
but this time I wanted to try something different. Everything seems to make it's way onto the grill these days and I wanted to see what the hype was about. I found this recipe in Bobby Flay's grilling cookbook but you can also find it
here
on the food network. I made some changes to suit our tastes and the end result was a huge hit. I hope you give this one a try and feel free to change things up if you like and don't be afraid if you don't have every ingredient a recipe calls for. Often enough there are great substitutions sitting in your pantry or fridge. Here's what I did or I should say what WE did. Steve did the grilling! Thanks honey!
French Style Grilled Potato Salad
Adapted from Bobby Flay
Ingredients
2 1/2 pounds small new potatoes (red and yellow), scrubbed
1/2 cup olive oil, divided
Salt
Freshly ground black pepper
3 tablespoons white wine vinegar
1 tablespoon Dijon mustard
1 small red onion, halved and thinly sliced
1/4 cup coarsely chopped fresh parsley
Directions
Cover potatoes with water in a medium saucepan. Add 2 tablespoons salt. Bring to a boil; reduce heat, and simmer until tender, about 8 minutes. Drain potatoes and let cool and slice into 1/4 inch slices.
Heat the grill to medium.
Brush the potatoes with 1/4 cup of the oil and season with salt and pepper. Place the potatoes on the grill, cut-side down and grill until lightly golden brown, about 4 minutes. Turn the potatoes over and continue grilling until just cooked through, about 4 minutes longer.
While the potatoes are grilling, whisk together the vinegar, mustard, and 1/4 cup oil in a large bowl, add the red onion and parsley and stir to combine.
Remove the potatoes from the grill and immediately add to the bowl with the other ingredients and gently stir to combine. Season with salt and pepper. Let sit at room temperature at least 15 minutes before serving. If it seems a little dry add a little more oil.