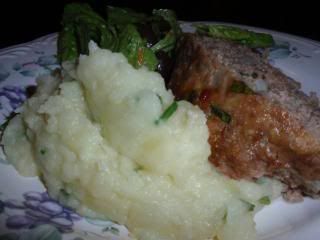 Ever get a craving for something and you can't get it out of your mind? Of course you do! If you're reading this then you're most likely a foodie and you are very familiar with that feeling. Well last week I was craving meatloaf. I know, it's summer, not really a summer food but that's what happens with a craving. It can be most inappropriate but that's okay. Just go with it.
I used my friend Gina's recipe and I'm sorry but I can't link you to her because she doesn't post recipe on bakespace (but she is a member!) and she doesn't have a blog! I know, it's very rare for one of my friends! :-) Anyway, I've made this recipe many times. In fact, we may have even come up with it together one day but she put it together and made it so she totally gets the credit. I've done it with the peas but this time I did it without. No reason. Just too lazy to go in the freezer and open up a new bag of frozen peas. Ha! At least I admit it! I also added some fresh parsley because I had it on hand. Recently, I've been reading on blogs about air baking where you put your food on a cooling rack and then bake it so the bottom gets crispy and the fat drips away. That would have been great for this. Too bad I didn't think about it until it was too late. I had a lot of fat accumulated around the meatloaf which I removed for the photo.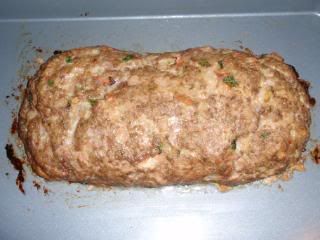 The mashed potato recipe I used for the first time but OMG! It's a keeper! I've made garlic mashed potatoes before but this was certainly the best. It had a subtle taste of garlic, not overwhelming and I never used yukon golds for mashed potatoes before. What a difference! I didn't use cream but used the skim plus milk I had on hand and I used a potato masher instead of a ricer. I'm sure mine were a little chunkier than intended but Steve and I both thought they were great. I forgot to take a picture of the potatoes on their own. Sorry!
These dishes went very well together and I think from now on they'll be paired together.
Gina's Meatloaf
1½ lbs ground beef (I used about 2 lbs this time)
1 onion, chopped
4 garlic cloves, chopped
1 cup grated cheese
I used 4 slices of panella bread (or any bread you have on hand)soaked in milk and then squeezed of the liquid
2 eggs
3 handfuls of frozen peas (defrost before you add to mixture)
2 tablespoons of olive oil
2 tablespoons Worcestershire sauce
Coarse salt
Pepper
Garlic powder
Onion powder
Heat 2 tablespoons of olive oil in pan. Sauté onions and garlic until onions become translucent. Remove from pan and cool.
Mix all ingredients together.(I added some of the milk from the bread like I do my meatballs.) Transfer mixture to a baking dish and form a loaf.
Bake @ 350° for 1 hour. Let cool for 10 minutes and then slice.
Tyler Florence's Garlic and Chive Mashed Potatoes
Ingredients:
6 to 8 large Yukon gold potatoes, peeled and quartered
1 tablespoon salt
4 bay leaves
1 cup heavy cream
1/2 stick (1/4 cup) butter
4 cloves garlic, lightly crushed
3 sprigs fresh thyme
Kosher salt and freshly ground black pepper
2 tablespoons chopped chives
Directions:
Put the cut potatoes into a large pot, cover them with cold water, and add salt and 2bay leaves. Bring to a boil and simmer until the potatoes are fork tender, about 20 to 30 minutes. Drain well and remove the bay leaves.
Meanwhile, in a small pot heat the cream, butter, garlic, thyme, and remaining bay leaves. While the potatoes are still warm, press them through a potato ricer or food mill into a mixing bowl. Add the warm cream, straining out the solids, a bit at a time until the potatoes are fluffy. Season with salt and pepper and gently stir in the chives. Serve immediately.