About a month ago I was the lucky recipient of a half pound of pecan halves from "
The Pecan Store
", a division of The Green Valley Pecan Company. When I was asked to review the pecans I was excited but also a little confused. Pecans are pecans, right? I couldn't imagine what I could have to say about them. Well let me just say that pecans are one of my favorite nuts. This actually is a recent discovery because my whole life I thought I didn't like pecans. About a year ago I purchased a big container of mixed nuts from costco for a party we were hosting and there was basically the entire jar leftover. I found myself sitting in front of the television with the jar on my lap reaching into the depths of the jar to pick out....walnuts. Walnuts? When I realized I was favoring one nut over the other I searched around and held a walnut next to a pecan. This is not the same nut, I told myself. That's when I realized the nuts I've been searching for in the jar were not walnuts but pecans. I like walnuts too but pecans are so much more flavorful.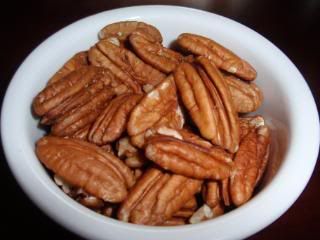 Being inexperienced about nuts and not being much of a baker I wasn't sure what I'd notice when I tasted these pecans. Boy was I wrong. I'm not getting paid for this review and if I hated them I would not lie and say I like them. I just don't believe in that. Okay, so the pecans. They were soft, I've never tasted pecans that were soft like this. I'm guessing that it means that they are fresher than the ones I usually buy in the supermarket. They were very flavorful and I had to force myself to stop eating them because I knew I wanted to bake something with them. This happened to be during the 1 week of healthy eating I managed to do so I searched for a healthy muffin recipe. This is what I found on www.dietandfitnesstoday.com. The muffins are low fat so they had that weird texture that most low fat muffins have. I can't even explain it, they were like elastic and stretchy when I pulled them apart. Definitely not something I'd want to eat all the time but hey they were supposed to be healthy. In the future I will use the flavoring in a full fat muffin recipe because I really liked the cinnamon with the pecans. The pecans held their texture. They didn't become hard at all. I really liked cooking with them and it's likely that I would use them in the future.
Thank you to The Pecan Store for letting me taste your pecans!
Light Applesauce Muffins
Recipe from Diet and Fitness today.
Ingredients:
2 cups All-purpose flour
1/2 cup sugar
2 tsp cinnamon
2 tsp baking powder
1/2 tsp salt
1 egg
1/3 cup Skim milk
1 cup applesauce
I added 1 cup pecans to this recipe.
Preparation:
Prepare the muffin pan using lowfat cooking spray and preheat oven to
425 degrees.
Combine the flour, sugar, cinnamon, baking powder, and
salt in a bowl.
Mix well. Lightly beat the egg and mix in the milk.Add the applesauce and egg/milk to the flour mixture and mix until just moistened. Mix in Pecans. Try to avoid overstirring, as this may create "tunneling" in the finished muffin.
Spoon the mixture into the muffin pans and bake for about 17 minutes.
Test for doneness with a toothpick: if the toothpick comes out moist,then let cook for another minute or so. If dry, then muffins are done.