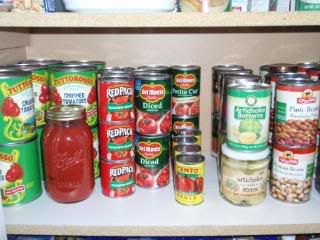 I've heard many times from friends and family members that they always make the same things because they don't have the right items in their pantry. If you know what to buy it's easy to keep a well stocked pantry. The first trip to the supermarket may be a little expensive but once you're stocked you will only need to fill in as you use the items. As I use things I add them to a list that I keep on my refrigerator. When I go to the store I'm usually just puying produce and meat and a few pantry items.
Once you have purchased all your items you will need to organize your pantry. We all have to work with the space we have so do what works best for you. I like to keep all my canned items together, baking items on another shelf, and pastas on another shelf. In my ideal world we would all have huge walk in pantries but that's not always possible and I certainly do not have one. Here are some pictures showing how I've organized my small pantry. The bottom shelf is a mess because it's my baking/miscellaneous shelf.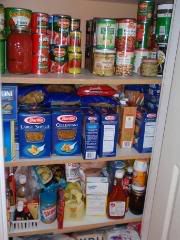 In the pantry:
Canned Tomatoes - Crushed, Diced, Whole Peeled, Paste, 8 oz cans Sauce
Peas - Leseur baby peas
Stock - Chicken, Beef, Veggie and/or
Boillion Cubes or Granules - Chicken, Beef, Veggie
Canned Beans - Chick Peas, Pinto, Kidney, Black, Roman
Dried Legumes - Lentils, Split Peas, barley
Roasted Peppers, Chiles in adobo sauce
Artichoke hearts - in water and marinated
Breadcrumbs - Plain, Seasoned, Panko,
Starches - long grain rice, basmati rice, arborio rice, couscous, polenta,
Pasta - Penne, Rigatoni, Rotini, ziti, farfalle, Cavatappi/Celentani, gemelli, mini penne, elbows, shells -medium and small, ditalini, pastina, farfalline, orzo, orrechiette, tubettini, ancini di pepe, linguine, spaghetti, fettucine, angel hair, bucatini
Flour - all purpose flour, wondra flour, cornstarch, bisquick
Sugar - White, brown (dark and light), powdered sugar
Misc. - Raisins, Sprinkles, etc.
Oils/Vinegars - Extra Virgin Olive Oil, Canola, Sesame Oil, Balsamic Vinegar, White Balsamic, Red Wine Vinegar, White Wine Vinegar, Apple Cider Vinegar & Marsala Wine (not cooking wine)
Bread - Whole Wheat sliced
Red Onions, White Onions, Garlic, Potatoes
Refrigerator:
Large Eggs
Carrots, Celery, lettuce/salad mix, lemons (Other produce varies)
fresh parsley, fresh basil
Kalamata Olives (from salad bar)
Ketchup, Yellow Mustard, Dijon Mustard, Light Mayo, Soy Sauce, Teriyaki Sauce, Tamari Sauce, Horseradish, worcestershire sauce, steak sauce, minced garlic, jelly
American Cheese, Unsalted butter Sticks, tub butter
Chardonnay, beer, water, tonic water, club soda
In the Freezer:
Individually Frozen Chicken Breasts, Chicken Cutlets
Ground Turkey, Ground Chicken, Ground Beef (other meats vary)
Tortellini - meat and cheese
Peas, chopped spinach, chopped broccoli
Cheeses - Shredded mozzarella, Shredded Cheddar, Shredded Mexican Blend/Taco Blend
Walnuts, Pecans, pine nuts, Chocolate Chips
Frozen basil - dorot cubes, fresh basil that I freeze in ziplock bags
Spice Cabinet:
garlic powder, onion powder, italian seasoning, oregano, bay leaves, thyme, dried basil, herbs de provence, kosher salt, peppercorns for the pepper mill, Mrs. Dash Table Blend, Cumin, Smoked Paprika, Sweet Paprika, poultry seasoning, allspice, cinnamon, nutmeg, crushed red pepper, sesame seeds, adobo, chili powder, cajun seasoning, bbq spice
If you cook Indian Food a lot you'll want to add curry and cardommom.
If you love Chinese food you may want to have chinese 5 spice powder on hand.
That about wraps it up. I'm sure there are things I forgot and there are of course items I buy for certain recipes and don't always keep them on hand. Hope this helps give you a start to your own pantry. Of course you don't have to have every item on this list but having all these items makes me very happy!