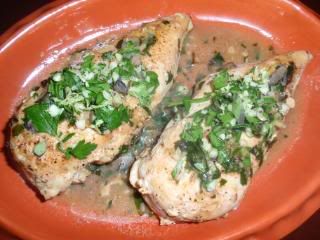 I have a lot of recipes everywhere. I have cookbooks, cooking magazines, recipes printed from the internet, recipes pulled out of magazines, I have a ton that are saved on my computer, given to me by friends, starred in my google reader, etc. It would take me two lifetimes to make each one. Every once and a while I like to make myself go through the folders and binders filled with recipes and actually make something. I guess this is how I justify keeping them. So that is how I came across the recipe that I'm going to share with you today. I pulled this recipe from the
April 2008 issue of Better Homes and Gardens
.
Overall this is a good, easy, go to chicken recipe. I only need to make one recommendation. The recipe calls to brown the chicken over medium high heat in butter. This is fine but please mix a little oil into the pan otherwise your butter will burn and your garlic probably will too. This recipe makes a very nice little sauce and the chicken is topped with a gremolata (minced garlic, lemon zest, garlic and in this case oregano).
Ingredients
1/3 cup chopped Italian (flat leaf )parsley
1 Tbsp. chopped fresh oregano
1 Tbsp. finely shredded lemon peel
1 Tbsp. finely chopped garlic (about 3 cloves)
3 Tbsp. butter
4 skinless, boneless chicken breast halves
1/4 cup chicken broth
Directions
1. In small bowl stir together parsley, oregano, lemon peel, and garlic. Set aside. Season chicken with salt and pepper.
2. In 10-inch skillet over medium-high heat cook chicken in butter for 6 minutes or until browned, turning once. Transfer to plate. Remove skillet from heat; stir in half herb mixture. Return to heat. Add broth; bring to boiling, stirring to scrape up browned bits. Return chicken to skillet; reduce heat. Simmer, covered, 8 minutes or until chicken is no longer pink.
3. Serve with pan sauce; sprinkle with remaining herb mixture. Makes 4 servings.