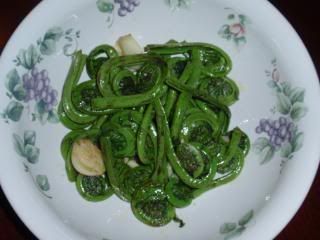 What are fiddleheads? I know you're all wondering because until 2 weeks ago I never heard of them before. I first saw them on a blog and thought they looked strange but kinda cool. Never thought I'd come across them but to my surprise one of my local supermarkets had them. I bought a small bunch just to see what they were like but they intimidated me and sat in my fridge for three days.
Finally last night I decided that I would just suck it up and try them. If they didn't taste good no one was going to force me to eat them! Steve already said he wasn't going to eat them. This was his face when I showed them to him.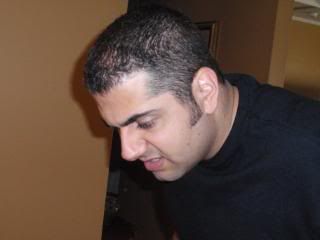 I can't say I blame him. That was probably my face when I first saw them!
After doing some researching and speaking to some friends on
bakespace
I found out that I should remove the brown papery skin and rinse them really well. There wasn't any papery skin on them and so I was a little confused. There was a fuzzy flowery type of stuff (for lack of a better word) inside the coiled part. I think that's what freaked me out because I wasn't sure if I was supposed to take that off or not. Everytime I tried to uncoil it and wipe that off the fiddlehead broke. It kind of snapped like a string bean. Hmmm...so, I just washed them, left that part alone and cut off the ends of each one like I normally do for the stems of broccoli rabe. I boiled them for two minutes and then sauteed them in garlic and oil and sprinkled them with a little salt.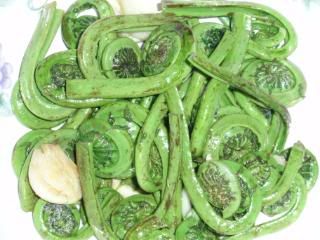 They tasted good. I was surprised. They weren't as bitter as I thought they would be. They did taste similar to the stems of broccoli rabe but milder like a string bean. I know, two totally different things but I don't know how else to describe them. The problem for me was that they looked really weird. I kept getting these images of them turning into worms or coming to life and freaky and snake-like. So, I couldn't eat them. They just looked like something so foreign and I couldn't trust it.
I still think you should try them for yourself but you don't have a lot of time. They are only around for a short amount of time and I think that window is closing. If you do try them let me know what you think. Are they fabulous or do you agree with me, they are just too damn freaky to eat?