Last weekend my good friend Janet brought over two wonderful desserts for our Kentucky Derby Party. She made Bourbon Balls so we could have something that was traditional Derby Fare and she also whipped up a batch of Coconut Macaroons. They were both great but I really, really, really liked the Coconut Macaroons! I didn't even know I liked coconut that much! Janet was nice enough to share the recipes and I'm sharing them with you! The photo of me and Janet is not from the Kentucky Derby party. We hardly took any pictures, I guess we were all busy having fun!
Thank you Janet for making these desserts for us and sharing the recipes!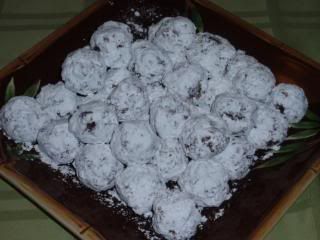 RUM OR BOURBON BALLS
www.cooks.com
Ingredients:
1 c. powdered sugar
1/3 c. rum or bourbon
1/4 c. light corn syrup
2 1/2 c. crushed vanilla wafers (food processor makes this step easy!)
1 c. chopped pecans
Directions:
Stir together powdered sugar, alcohol and corn syrup. Then add the crushed wafers and chopped nuts. Mix until evenly moistened and pinch a walnut sized piece and roll it firmly between the palms of your hands, repeat until all balls have been made. Then sift 1/2 cup powdered sugar and 1 tablespoon cocoa powder onto a plate, roll the balls in the powder until evenly coated. Store in an airtight tin with doilies or wax paper between layers. Recommend candy sized Christmas cups for serving.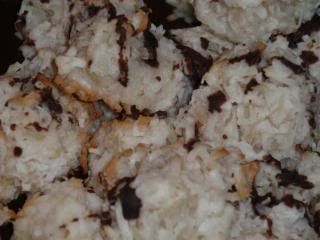 Coconut Macaroons
Adapted from recipe on package of coconut.
Ingredients:
1 large pkg coconut (400g)
2/3 cups sugar
6 Tablespoons flour
1/4 ts Salt
4 egg whites
1 tsp almond extract (I used Amaretto instead)
Directions:
Mix coconut, sugar, flour, and salt in a large bowl. Stir egg whites and almond extract/Amaretto. Drop by tablespoonfuls onto greased cookie sheet. Bake at 325 for about 20 minutes.