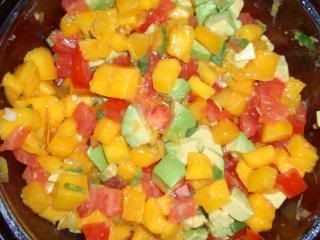 If you're looking for something different for your next barbeque or potluck consider making this mango salsa. The flavors are so clean and vibrant, everyone loves it! This recipe was given to me by Jessica, a member of my dinner group about two years ago. I loved it when she made it, gave the recipe out to friends and family but never made it myself. It's so easy, I think I'll be making this one again very soon! Come back tomorrow to see what I'm doing with the leftovers!
Mango Salsa
Ingredients:
2 ripe mangos, peeled and diced
2 tomatoes, seeded and diced (seeds and juice discarded)
1-2 green onions, finely sliced
1 lime, juiced
1 avocado, diced
salt
Directions:
Combine diced mangos, tomatoes, and green onions (this can be
done the night before and left in the fridge). Then dice the avocado and
mix with the lime juice to prevent discoloration. Mix the avocado
with the mangos right before serving and season with salt if needed.
You can also add a minced jalapeño if you like it spicy.