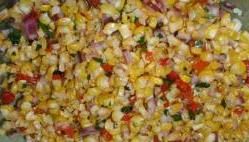 Here is another side dish from our Kentucky Derby Party. This is a great alternative to corn on the cob. It's easy to eat and has some new flavors added to it. This recipe can easily be doubled so give this a try at your next barbeque! Sorry about the picture. I had to crop it because I took the picture after half of it was gone and it just looked funny in the big bowl half empty!
Grilled Corn Salad
Serves 4-6 as a side dish
4 ears fresh corn, husks removed
1 red bell pepper, roasted (can use from jar)
½ red onion diced
1 lemon, juiced
1 lime, juiced
Salt & Pepper to taste
Chopped parsley (optional)
Brush corn with olive oil on all sides. Sprinkle w/ salt & pepper, reserve extra oil. While grilling corn (directly on grill), chop onion, parsley, and red pepper. Combine in a bowl. Add lemon & lime juice. When corn is cooked (should have char marks) remove kernels w/ a knife and add to bowl. Add the rest of oil and adjust seasonings. Add more oil if needed.