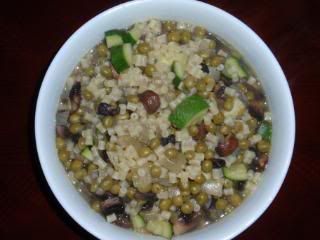 10 years ago I started asking family and friends for recipes. I wanted to create a cookbook with recipes from people who are special to me. You'd be surprised how many people couldn't be bothered. I was very disappointed that despite the letter I mailed many people in my family (distant relatives as well as close ones) I only got a few recipes and those were from the ones that I pestered. Since it was so difficult to get recipes from family, whenever I tasted something I liked, I got in the habit of asking people right then and there to tell me how to make it and I wrote it down. This was one of the first recipes I got my hands on. It was given to me by a neighbor and very close friend of the family, Joanne. I remember the day she made it. I stopped by her house and this is what she was making for lunch. She invited me to join her and her family and I graciously accepted. It was delicious!
Oh, one more thing. I know that canned vegetables are not as good as frozen and for the most part I agree. I can hear you all now, tsk tsk, but listen, in my humble opinion, baby peas in a can have so much more flavor than frozen peas. I prefer Le Sueuer peas and only use these for this dish and also when I make macaroni and peas (recipe to come in the future). The frozen ones just don't work here but be my guest and use whatever you feel comfortable with.
Ingredients:
1 large clove garlic, chopped
1 medium onion, diced
olive oil
salt and pepper
Mrs. Dash table blend
1 can of peas
1 cup chicken broth
1 small zucchini
1 package fresh mushrooms, sliced
1/2 lb tubitini or any other small pasta
Saute garlic and onion in oil.
Add zucchini, mushrooms, salt, pepper and Mrs. Dash to pot. Let cook until zucchini is soft.
Add whole can of peas with juice and chicken broth. Let cook for a few minutes until it's heated through.
In seperate pot cook pasta, drain (leave some water) and combine with vegetables. (shouldn't have the same amount of liquid as soup but should be wet)