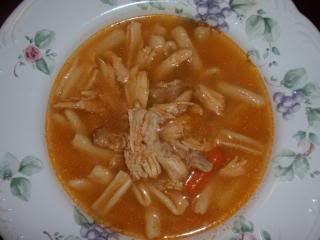 A couple of days ago I posted about the chicken and potatoes I made in the oven. In the package of chicken that I bought had a whole chicken that was cut up. I used part of it in my roasted chicken dish (enough to feed two) and the rest of the chicken I used to make this soup. I had a large chicken breast, two wings and a thigh and just to make sure I had enough meat I added an extra chicken breast that I had. I should have listened to my mother and not used so much water because since I didn't have a whole chicken the broth was a little light and bland. No big deal, I threw in a few chicken bouillon cubes. I'm not going to give you an exact recipe for this but I think you'll get the idea.
Add chicken (with bone and skin) to pot with enough cold water to cover. Leave the skin on but if there is a lot of excess skin or fat just trim that off. To the pot add whatever veggies you like and you don't have to get particular about dicing. I cut them into large chunks. I just used two tomatoes, carrots, onion and celery but you can use leeks, mushrooms, garlic, whatever you like. I added bay leaves but you can add parsley or thyme also if you like it. Let it come to a boil and then reduce to a simmer. Let it cook until chicken is cooked through (approx 1 hour, depending on amount of chicken). Remove chicken to a dish and let cool. Taste soup for seasoning. Add salt, pepper and if you think it needs a richer taste add bouillon (before you add the salt). When chicken is cool enough to handle shred with two forks (or your fingers) or dice into small pieces. I prefer it shredded because that's how my mother always did it. I used my immersion (stick) blender and blended all the veggies (except for one lone carrot...oops!) but you don't have to do that. You could have cut your veggies smaller and left them whole. Add shredded chicken to the pot. In separate pot cook pasta or rice. I used cavatelli (we pronounce it gah-vah-deel - don't ask, we just do!) and that can be found in the frozen section with the ravioli and tortellini. I've heard this suggested somewhere and called "Italian chicken and Dumpling soup". I wouldn't call this that because it wasn't thick enough for that but you could certainly make a roux and thicken it up. Anyway, I'm getting distracted. If you are only making a small amount of soup you could cook the pasta or rice right in the pot with the soup. I made a large amount so I could freeze it and I didn't want the pasta to get mushy.
It turned out delicious. I definitely recommend using the cavatelli but they are larger than most pasta that I would normally use and so one package was just enough but I would have liked a little more. Maybe we just have big appetites!